Premium Lens Implants

When cataracts are removed from the eye during cataract surgery, the lens is replaced with an artificial lens (IOL) that restores clear vision. Not all IOLs are made the same, and each has different refractions that correct vision at varying distances. The lens a patient chooses for their procedure can have a big impact on what you can see and do with or without glasses.
Acrysof IQ PanOptix (Trifocal Lens)
Sea Island Ophthalmology is proud to introduce the PanOptix Trifocal IOL to our lens collection available to patients. For patients looking to achieve visual freedom from bifocals and reading glasses and maintain sharp distance, intermediate, and near vision, PanOptix is the latest IOL technology that can help to achieve all of this and more. Of patients surveyed post-operatively on whether or not they would choose to have the same lens implanted again, 99.2% said they would!
Acrysof IQ ReSTOR (Multifocal Lens)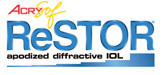 Are you ready to be free of reading glasses or bifocals? Until recently, this was not an option, but now with the introduction of the Acrysof IQ ReSTOR IOL (Intraocular Lens), the possibility of being free of reading glasses has arrived! This new lens is FDA approved and is giving patients clear vision at all distances…near, intermediate and far!
The Acrysof IQ ReSTOR IOL is implanted during cataract surgery to replace the natural lens, which has become clouded by cataracts. This new lens can provide enhanced visual quality and a full range of vision, giving patients increased independence from reading glasses and bifocals.
Our eyes are continuously focusing on objects at different distances. Whether watching television, sitting at a computer or driving, our eyes automatically focus on different things at different distances quite quickly. As we age, the ability for our eyes to change focus, or accommodate, weakens, which leads to the need for bifocals and reading glasses. By combining the strengths of apodized diffractive and refractive technologies, the Acrysof IQ ReStor IOL provides quality near, intermediate and distance vision and increased independence from reading glasses and bifocals.
Clinical Trial Data for the Acrysof IQ ReSTOR IOL
The US clinical trials included a three-month follow-up exam of near, intermediate and distance visual acuities.
The percentage of patients who achieved 20/20 or better at all three distances with the AcrySof® IQ ReSTOR® +3.0 D was nearly fourfold the rate of patients who received the control lens, AcrySof® IQ ReSTOR® +4.0 D.
The clinical studies also showed a high rate of patient satisfaction with over 95 percent of patients stating that they would have this lens implanted again.
There is an additional cost for this lens implant.
Acrysof IQ Toric IOL (for Astigmatism)
If you have been told that you have developed cataracts and you also have astigmatism new premium lens implant options are available to help minimize your need for glasses after surgery. If you are unsure if you have astigmatism please check with your eye doctor.
Sea Island Ophthalmology is pleased to offer the Toric IOL for astigmatism correction after cataract surgery. The recent advancements in Intraocular Lens (IOL) technology have now made it possible to provide an effective solution for patients that have astigmatism. Until recently, patients that were IOL candidates and had astigmatism had no option built into the lens, which would correct the astigmatism aspect of their visual condition. Surgeons would typically perform refractive surgery or LASIK after the insertion of an IOL to correct the complete visual picture. If patients did not have astigmatism correction after IOL implantation then contacts or glasses would be required to deal with astigmatism. With advancements in the optics of IOLs, the manufacturers have now been able to accommodate for astigmatism.
Acrysof IQToric® IOL technology uses biocompatible materials that have been successfully used in contact lenses and proven safe for the eye. There is an additional cost for this lens implant.
Many patients suffer from this common eye condition known as astigmatism. Often this astigmatism can lead to blurred or impaired vision if it becomes moderate or severe. The cause of the blurred and impaired vision is the result of the eye's cornea or lens having an irregular shape. A normal eye's cornea and lens have a circular shape whereas an eye with astigmatism has a longer more oval shape.

The AcrySof Toric® corrects for both conditions, cataracts, and astigmatism. The Acrysof Toric® IOL is a foldable, single piece lens that is implanted during cataract surgery to replace the clouded lens. The unique design of the AcrySof Toric® IOL makes it possible to reduce or eliminate corneal astigmatism and significantly improve uncorrected distance vision. AcrySof Toric lens provides excellent distance vision, independent of eyeglasses and contact lenses.
Clinical Study Data for the Acrysof IQ Toric® IOL:
94% of patients achieved an uncorrected distance of 20/40 or better
Improved contrast sensitivity in low-light situations
significant reduction in both spherical and total high order aberrations
Improved functional vision in challenging environments such as night driving, glare, and fog
Acrysof IQ IOL (Monofocal)
Even healthy eyes may contain imperfections called higher order aberrations. An aberration is an irregularity in the shape of the eye's refractive surface that can distort vision. One type of higher order aberration common to cataract patients is a spherical aberration, which can lead to a gradual reduction in visual acuity and function. As you get older, your eye's lens gets thicker and rounder, causing image quality to deteriorate.
Spherical aberrations are generally associated with vision problems such as:
Blurriness
Halos
Double vision
Loss of contrast
Poor night vision
In addition to restoring healthy, cataract-free sight to patients, the AcrySof® IQ intraocular lens (IOL) was developed with a unique aspheric design that actually helps reduce spherical aberration. As a result, the AcrySof® IQ IOL offers a number of benefits over traditional lenses, including:
Enhanced clarity
Improved image quality
Filtered blue light for rich, vibrant color
Are you looking for more information on your lens options following cataract surgery? Request an appointment at Sea Island Ophthalmology in Beaufort, SC, today!